You scream. I scream. We all scream for…HOPE!
In today's world, the news is non-stop noise. The barage of "breaking news" is unbearable for the human soul.
Maybe you're like me…
I am overwhelmed, hurt, confused, and frustrated!  I tried ignoring the hurts of humanity with no luck.  I then drank the bitter cup of despair as well to no avail either.
And then I turned to something that seemed so unnatural and childish — HOPE.
I have been a follower of Jesus Christ for twenty years, however, I am new to possessing and spreading HOPE.  Clearly, I've been missing something — a God that transcended the turbulence and tragedy.
---
HOPE: from the Greek word, ἐλπίς (elpees):
joyful or confident expectation; to anticipate, usually with pleasure
* This is NOT wishful thinking. *
---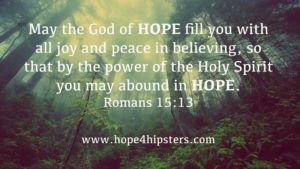 The 3 P's of HOPE
1) PERSON:
"In his name the nations will put their hope." ~ Matthew 12:21
2) PROMISE:
"May the God of hope fill you with all joy and peace as you trust in him, so that you may overflow with hope by the power of the Holy Spirit." ~ Romans 15:13
3) PROSPECT:
"We wait for the blessed hope—the appearing of the glory of our great God and Savior, Jesus Christ." ~ Titus 2:13
---
HIPSTERS
1) Personal: I consider myself one.
2) Everywhere: "Hipster" has become so broad and inclusive that it often just means "millennial" (those born about 1982 – 2004).  This is a lot of people and they are the first to be media-saturated!
3) Awesome: They are witty, magnetic, energetic, independent, counter or progressively minded, and maximize the moment.
Enter the dichotomy…
Hipsters often lack HOPE.  Many have been turned off to the most magnetic and maximizing movement ever: the Kingdom of God, initiated by the Father, realized by the Son, and sustained by the Spirit.
Closed to the transcendent, they are left with the secular (Latin for "this worldly"), and it's betraying them. Embracing the transient and only trusting in itself, I see a generation answering the call of lovers less wild while losing its humanity in the process.
They are so clever and creative, but they are highly cynical (and rightfully so!) of Christ, His Cross, and His Church.
4) Future: As of 2016, Millennials are now the largest living demographic.
I have seen the good, bad, and ugly with regards to the Christian culture, so I completely resonate with the jaded hipster.
This is a place that I pray would bring HOPE to the marginalized, mistreated, and often misunderstood millennial.