Hello, hipsters and welcome to the first ever:
"Transformation Tuesday!"
Today, in pursuit of transformation, we will explore how peace is possible, both personally and globally.
I am so excited!  This is why HOPE4Hipsters exists because far too many have experienced the pain and punishment of not "fitting the mold."
Let's take a look at how peace is both sabotaged and secured.
Preface:
"So then let us pursue what makes for peace and for mutual upbuilding." ~ Romans 14:19
We enter this world naive, helpless, and completely malleable.  Therefore, we are all products of our environment.  A soil that is tilled, seeded, and watered through years of influence.
What have we inherited, and more importantly, what future are we creating?
Problem:
"Bless those who persecute you; bless and do not curse them.  Rejoice with those who rejoice, weep with those who weep.  Live in harmony with one another. Do not be haughty, but associate with the lowly. Never be wise in your own sight.  Repay no one evil for evil, but give thought to do what is honorable in the sight of all.  If possible, so far as it depends on you, live peaceably with all.  Beloved, never avenge yourselves, but leave it to the wrath of God, for it is written, 'Vengeance is mine, I will repay, says the Lord.'  To the contrary, 'if your enemy is hungry, feed him; if he is thirsty, give him something to drink; for by so doing you will heap burning coals on his head.'  Do not be overcome by evil, but overcome evil with good." ~ Romans 12:14-21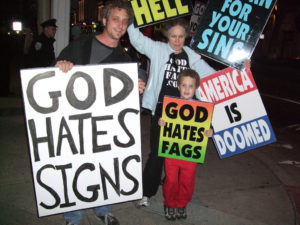 We possess the answer for peace — it's actually quite simple.  However, we continually propagate the problem for it is the most difficult path to pursue.
Discord flows like a strong current through our world.  And despite all of the divisiveness, this is perhaps one of the few things all people can agree upon.
It may not be in our inner circle, or perhaps it is but we just label it something less ugly, but it permeates every demographic, social status, background, race, gender, religion, and time period in history.
No one, anywhere, is free from its effects.
So we either join along and run in the hateful hamster wheel of life, or dare to resist by pursuing peace.  And even though our upbringing creates and feeds our natural bend, we do have a choice in the matter.
In order to become peace-makers (not to be confused with "peace-keepers"), we must first purify any potential poisons we have inherited that reap harvests of hate.
4 Ways of Poisonous People:
1) Unattached:  This is the embodiment of "otherness" (us vs. them).  We are at odds with the world (or a particular demographic).  A polarized and polarizing people who, for example, write off half the country, dismissing any nuance, complexity, and therefore humanity in "the other."
2) Uncompromising:  Concession is anathema.  And we punish those who question or who are different.
3) Unapproachable:  Righteous indignation, the seductive certainty that we are right, self deifies us on our soapboxes.  We are the ultimate arbiters of truth.  And rightness justifies rudeness.
4) Unteachable:  We're right!  End of story.  The hypocrisy manifests as we refuse to acknowledge the flaws in our positions and the merits in those who differ.  For example, we preach, "love your neighbor," but we hope, pray, and vote for their destruction.  We sing, "Come As You Are," but really mean, "come as you should be."
From politics, to religion, and even the family dinner table, we are constantly hurled into hostility.  And so we all long for peace, but division is so commonplace that we even cynically mock our longing (Miss America speeches).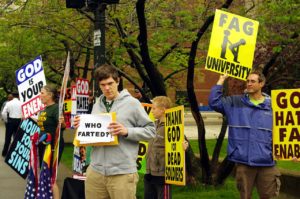 Practice:
But there is HOPE for all of this hatred.  And it is here: The power of engaging "the other."
Watch this video about Megan Phelps-Roper, a once-hateful zealot who was transformed into a loving peace-maker, and be inspired!
4 Ways to Pursue Peace-Making:
1) The Dialogue: This should naturally occur from curiosity.  I mean, how can someone think differently than me!?  But it must be civil.  And more times than not, the line between friend and foe will become blurred in the process.
2) The Decent: In order for peace to be possible, we must start seeing each other as human beings.  The rude rhetoric so commonly seen and heard must be dismissed.  We can disagree without becoming disagreeable.
3) The Deference: Amazing, positive things happen when we take time to understand the other side.  Who knows, those on "the other side" may end up being closer than family.
4) The Disconnect: Get ready, because when we make bold, progressive moves forward, we may find that we have no place to "belong" temporarily.  Those in our past may reject, and those in our future may reasonably be skeptical and distant.
My HOPE4Hipsters:
"…those who plan peace have joy." ~ Proverbs 12:20b
As Megan said, we can and must do hard things for ourselves, others, our country, and our future.  It has to start with us.
4 Ways to Possess Peace:
1) Don't assume bad intent. This cuts us off.  Assume good or neutral intent.  We oftentimes have very similar desires and needs as others, but our madcap methods are destroying and dividing.  This will provide a much stronger framework for understanding, compassion, and necessary dialogue.
2) Ask questions.  This helps map the disconnect we experience.  It enables us to understand them and us!  This also tells others that they are being heard, an invaluable component to peaceable progress!
3) Stay calm.  "Rightness" never justifies rudeness.  Instead of dialing up the volume and snark, let's refuse to escalate.  If necessary, we put the communication on pause and create buffers to maintain civility.  We can resist our baser instincts!  Generosity and compassion must always be our code of conduct, no matter how "right" we feel.
4) Make the argument.  Don't assume the value of our position is obvious/self-evident to others.  It's not their problem that they do not understand, and it is our job to educate. We're all products of our upbringing, and therefore we can't expect others to spontaneously change their minds after years of molding.  If we really want change, we have to make the argument for it.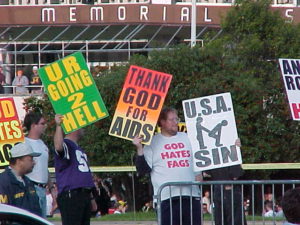 If you noticed, peace does not require agreement.  In fact, the beauty of this virtue is truly seen when two discordant parties lay aside not their stances but their stubbornness.
We can do something about this, but it's both simple and hard.  Talk and listen with those we disagree with.  Shed light without turning up the heat.
There is relief as we release our hostilities!  It's time our post-modern world lives up to its credo's of tolerance and diversity.
But the answer is not in more education or more laws, it's here:
"Great peace have those who love your law; nothing can make them stumble." ~ Psalm 119:165
Are we unattached, uncompromising, unapproachable, or unteachable?  If so, what are we doing about it?  How are we abandoning alienation and pursuing peace?  Are we dialoguing, being decent, and showing deference?
The ultimate solution, I believe, is found in and founded upon the "Prince of Peace," who promised His followers:
"Peace I leave with you; my peace I give to you. Not as the world gives do I give to you." (Jn. 14:27)
The intolerant generalities must to upgraded.  We have the choice.
Keep the HOPE and peace to you, Hipsters!
"…a future awaits those who seek peace." ~ Psalm 37:37b