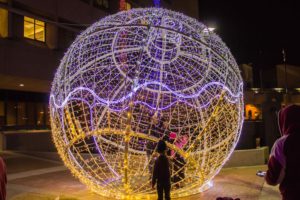 So, it's been a while…
Between hospitals and holidays, life has been a little "full" since my last post.  I'm sure it has been the same for you.
Enter our societal scrape — the future is continuously bombarding our present, leaving us with no margin.  We're overflowing, and no matter how much will "fill up," we still part with a pang of weariness and emptiness.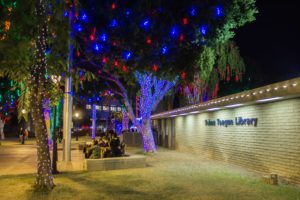 Preface:
It was Christmas last week!  I'm still pinching myself…where did the year go?!
Anyways, I truly believe that the holiday season is, "The most wonderful time of the year," however, if you're year-end is like mine, it's also the worst time of the year.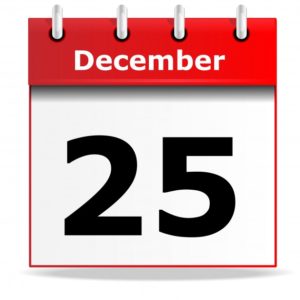 Your December is drained by demanding dilly-dallies.  Anyone???
So, in an attempt to fix our focus and keep our fire fueled, the family and I explore the celebration of advent (Latin for "coming").  For a second year, our family has done this by going through Ann Voskamp's, "The Greatest Gift."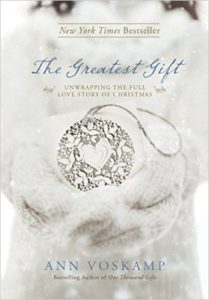 If you've ever read it, you'll notice a reoccurring phrase as she defines the incarnational reality of Christmas: God gives God.
What a unique, intriguing, and overwhelming image.  Simple and yet profound.  Nothing like what the TV, radio, internet or billboards shared.
But out of all our celebrating last week, who partook in something like this?  Who gave God?  Who wanted to receive Him?
No shiny bows are found in smelly stables.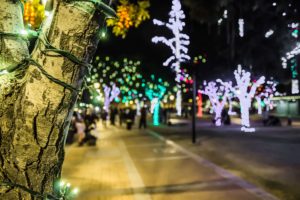 Problem:
Brian Houston, global senior pastor for Hillsong Church, suggests that there is a tension between our celebrating and our longing.  I agree, but would like to take it a step further and suggest that some of this tension is self-made.
Everyone loves a good party, but not many are fond of a purpose.  If anything, it's the lurking purpose that we're trying to escape or drown out.
And if we even dare to acknowledge something beyond our temporal, surface cravings, we often keep it reserved for a decorated table in the other room or for an annual midnight gathering.
I'm afraid that if we were to investigate this disconnect between merrymaking and our inner-itch, we would find our answers to be quite shallow and hallow, assuming that we actually have any answers.
As I contemplate Christmas in our culture, and the irony of how one day on the calendar causes distant, flippant people to now offer warm embraces, I am left with some questions.
What is Christmas?  What comes to mind as you consider Christmas?  Shiny paper?  Lights?  Tons of food?  Cards?  Shopping?  People gathering?
Maybe I'm weird, because even though I love all of these things, I still find myself wondering, "Is there more?"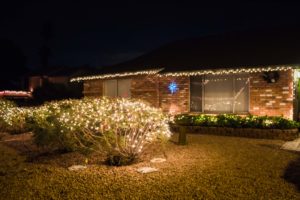 And here's the meat of the matter.
We say "Merry Christmas", or Happy Mass of Christ, but what is Christmas without Christ?  Just mass.  And what is mass without Christ?  It's nothing.
"Well, that's unpleasant!," some may say.
Maybe we should "play it safe" and just call it a holiday.  But what is a holiday without the essence of holy?  Just a day.
I can hear the naysayers declaring, "These are just dumb, weird word games!"  But are they?
Is the problem asking questions about why we do what we do, or is it our love-affair with doing one thing and calling it something else?
Christmas consumes our conscience during the end of the year (or longer if you're in retail!), but how much of this constant commotion considers Christ?  Where is God giving God in all of our gaiety?
What have we done???  Do you see the absurdity?
In a post-modern, PC world, we've constrained ourselves to words without any meaning.  Empty sayings, platitudes and well-wishes grounded upon nothing.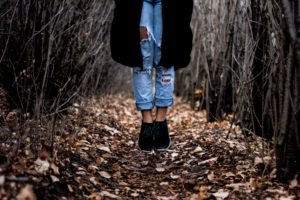 As G.K. Chesterton would say, we seem to, "Have our feet firmly planted in mid-air."
We just do this "stuff" because that's what we've always done.  But doesn't that just reduce us to robots on repeat?
Is year-end the bell to our Christmas Pavlov?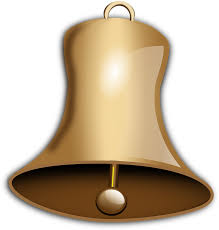 Or we just do this "stuff" because that's what others are doing.  But doesn't that just make us sheep in a herd?
There has to be more to our merriment!!!
Here is the answer I have come to, and although I know many would disagree, I have serious doubts that they would bring any substance.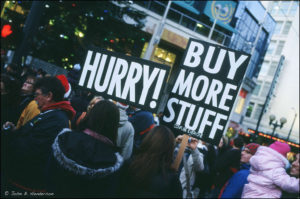 Disclaimer: Believe me — I'm all for being with family, friends, for expressing love and having fun, but why in December does this have to all be accompanied by the unending preparations: the late nights, the decorations, the Christmas cards, the food that could feed a village, the chaotic shopping and traveling, on and on and on it goes!
We willingly lose our minds and kill ourselves (and even each other) over this, and for what?!  To do things we already do multiple times throughout the year?
What's worse is that many of us do not even care for the traditional Christmas activity, but we often still do it anyways!
There has to be something more and this is what I'm getting at…
A Christmas without Christ is:
1) merriment devoid of meaning
2) a host of symbols lacking substance
3) fuss with no fulfillment
4) a full belly with an empty heart
Quite simply, it is joy unfulfilled, peace unrealized, and hope deferred.
And I think we know it, but the ache revealed is too much to bear.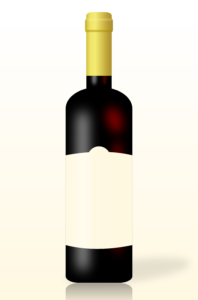 How else can we explain our breakneck polarity from Christmas to New Year's?  One week we're sipping wine to remember, the next we're gulping it to feel or forget.
It seems that we're desperate to silence the solemnity and sacredness of this season's ceremony.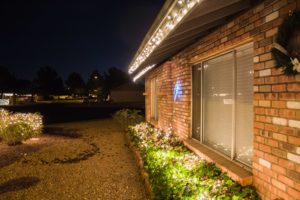 Practice:
Christmas Carols remind us for what and why we celebrate.  Perhaps this is why a large part of society scorns or substitutes these masterpieces with, "Santa Baby," or some other frivolity.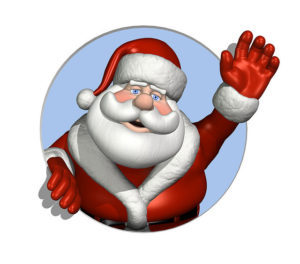 Don't get me wrong, "Santa Baby" puts a smile on my face, but I find it completely inept at helping me through the pain I feel as I recall those no longer with me or providing wisdom as I attempt to navigate the relational mines lying within current family tensions.
I don't know about you, but I desperately need to get more out of Christmas than just a good meal, sleepless nights, stress at the stores, awkward moments with relatives, cheesy songs, and cheap socks.
In the song, "O Little Town of Bethlehem," we sing that, "The HOPEs and fears of all the years are met in thee tonight." 
Wow…what an amazing thought and promise!  Ponder that for a moment.  Every hope and every fear collides with Christ and is either fulfilled or vanquished!
We further sing,
"O holy Child of Bethlehem, descend to us, we pray; Cast out our sin, and enter in, be born in us today. We hear the Christmas angels the glad tidings tell; O come to us, abide with us, our Lord Immanuel."
Let's make this more than just a paid day off, and let's do more than just survive the stressful season.