This is a big week.  Tomorrow is the day we've been nervously anticipating for the last year.  Tomorrow, October 18th, 2016, our son Elias is scheduled to have surgery.  He will be getting VP brain shunts.  It's hard to believe.  It's real.  We would not have chosen this road, but it is a part of his story.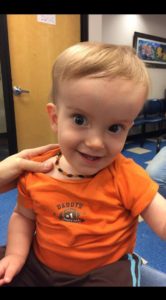 Just a little over a year ago, our Elias was lovingly welcomed into this world.  He had his 1st surgery 24 hours after birth to close up his spine.  We spent 9 days in the hospital following this procedure.  We had no idea what to expect in the journey ahead. He pleasantly surprised us all with his strength and stamina!  Our little football boy is a determined fighter!!  But he is also a gentle giant; he has the sweetest temperament. Despite the countless medical visits to various specialists for his care, this past year has mostly just been monitoring.  We have been blessed that he has not needed more direct medical intervention until now.  And what a year it has been as we adjust to being a family of 5!  We praise God for the season He has given us to come to know, love, and be inspired by our little man's life!!!  Every day with our children is cherished.
Tomorrow, our family will enter a new medical journey with Elias having his shunts.  We pray and seek the Lord again for His gracious protection through his medical Dr.'s and care team.  We thank everyone who has joined us in this journey and who is in prayer with us this week, in particular, as we transition.  As a mommy, I can't tell you how much it means to know we are not alone.
The goal of brain shunts is to help his body function as normal as possible. Ideally, we hope for him to live an active, thriving life.  The first month to a year is vital in having him closely monitored to ensure that this route is a success.  If there are any complications, they should show up right away.  As with any operation, there are always potential risks.  We are asking Jesus to protect our little guy in any and every way!  We ask for God to use this route to bring life-long healing, and that Elias's life would be a testimony of God's healing through the wonders of modern medical care!
Additionally, after almost a year with no concerns in this area, Elias had an ultrasound last week that revealed some concerns with his kidneys and bladder that require follow-up tests to diagnose and verify.  We also ask for prayer that there would be no complications, and that God would heal him completely!
Honestly, my mommy heart has many emotions about all of this – I'm a rollercoaster!! But I am moment by moment striving to rest my anxious thoughts on Truth. (Phil. 4:8-9)  God is good.  He cares for me.  He cares for Elias better than I do.  He is a Redeemer.  He is a Healer.  His thoughts are not my thoughts, but He is a refuge of HOPE.
I don't like having to go through this, to see Elias go through this. I want to protect my kids from any and every harm or pain.  I want to take their burdens.  But this is a situation I don't have control over, and therefore, I choose to surrender to our Creator.  I trust Him because He knows better than I can ever know myself. (Psalm 139)
I like how Eugene Peterson puts it:
"There's more to come: We continue to shout our praise even when we're hemmed in with troubles, because we know how troubles can develop passionate patience in us, and how that patience in turn forges the tempered steel of virtue, keeping us alert for whatever God will do next. In alert expectancy such as this, we're never left feeling shortchanged. Quite the contrary—we can't round up enough containers to hold everything God generously pours into our lives through the Holy Spirit!"
For now, our family thanks you, the many who have come alongside in so many ways and continue to join us in prayer for our son and family.  May He bless you as you have blessed us.