Elias's life with a brain shunt begins.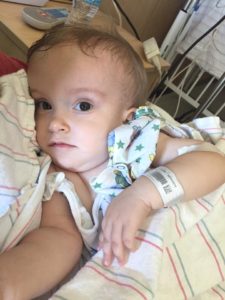 Well, the last 28 hours have been quite full for us!!  We arrived at the hospital yesterday at 10 AM for admitting and prep.  At 11 AM, we got Elias into his hospital gown and got ready to say our temporary goodbye (this was mommy's hardest part).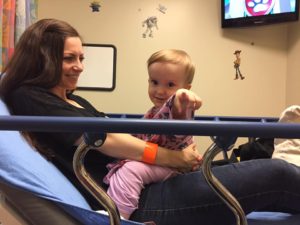 At 12 PM he started anesthesia, and had his MRI on his spine.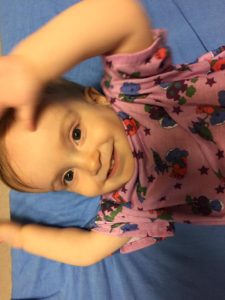 Lots of prayers and intervening for our son occurred during this time!  Thank you to those who shared this part with us.
His surgery followed, and it was a success!  Those were 3 hours that felt like forever some moments.  We finally got in to see him at almost 3 PM.  Oh my, was that one of the best moments ever to connect with our baby boy again. 😭  My mommy heart could hardly wait to have him in my arms again.  The best!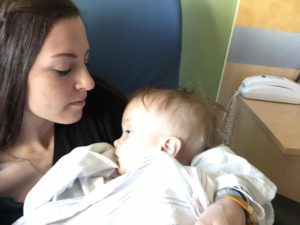 He immediately let me know he wanted mommy and milk.  He hadn't eaten since the night before… poor baby!  He adjusted very well, and though weak as expected, his vitals were all on track.
The 1st night stay was long.  He mostly only slept being held, so he and mommy had a few naps through the night. 😉
This morning, Elias is still weak, but responding appropriately.  He is in quite a bit of discomfort as expected, but he has good pain meds to help it be managed.  It is amazing how having us, his parents, hold him brings immediate comfort.
Mommy is thankful more than ever that he can be in our arms during recovery, especially since being at the hospital reminds us every child has a unique road and journey of health.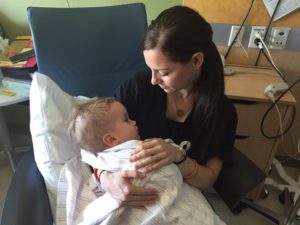 God's blessings are all around us as we look for them.  Elias and mommy listened to a variety of Bethel worship as our "white noise" during the night, and God comforted us with reminders of His love and care.  HE is with us in this hard time; we are so grateful to rest in that knowledge.
Emotions aren't always sure, but our heart and minds are resting in that He has not given to us a spirit of fear (2 Tim.1:4) and that His grace is sufficient in our weakness. (2 Cor. 12:9)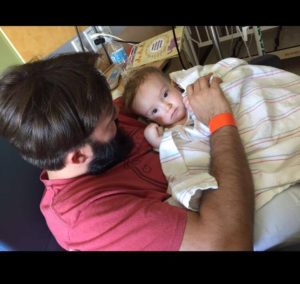 We're still early in Elias's health journey, adapting to life with his brain shunt.  But we Praise God for the progress he has made and the ways Elias is properly responding to his treatment thus far.  Every moment matters!
Thank you again to those who have come alongside in prayer and have extended the kindness we have received!  Our family feels very loved.
Declaring over every area in our lives: "You're never gonna let me down!  Because You are GOOD!"