Before you start, see my  Challenge of Change series.
"We are not necessarily doubting that God will do 'the best' for us; we are wondering how painful 'the best' will turn out to be." ~ C.S. Lewis
Is not this what we said to you in Egypt: 'Leave us alone that we may serve the Egyptians'? For it would have been better for us to serve the Egyptians than to die in the wilderness." ~ Exodus 14:12
Preface:
I still can't believe it as I type, but the Arnold's just returned from NYC last week!  A thought and prayer beginning back in January, this is something we will be reveling in for weeks, if not months or even years to come!
*** This trip was NOT a Dave Ramsey-approved vacation, but it was an adventure from God.  It was not something we necessarily wanted, it did not make sense, and it was not in our budget, but we're learning to listen and lean into God despite our circumstances or approval. ***
The silly Israelites thought the place of death was in the wilderness.  No, going back to Egypt when you're called to Promise, that's death.  It was our chance to "leave Egypt."
If you read the previous entries in the New Journey section, you read that our first major change as a family this season was leaving a church where we were comfortable and serving, but you may be wondering how New York is connected?
New York is the birthplace of my utter transformation and faith resuscitation stemming back three years.  Back when I was done with God, He graciously revealed to me that He was not done with me.  He did this in many ways, but Carl Lentz (lead pastor of Hillsong NYC) was the primary catalyst.
God has been moving in big ways in NYC, especially through Hillsong Church, and I started asking God if I should join Him in this kingdom work.
So after much trepidation, we were off to the Big Apple to check out Hillsong NYC and the Hillsong Conference (more on this next time)!
Taking three children, five years of age and under, across the U.S. is crazy!!!  Just in case anyone was wondering.  And then add sickness for the entire family…now God is working!
I'm still in recovery as I write, but as my clarity of thought returns, I am amazed at what God did during our trip.
Problem:
We all have faith-assaulting giants in our lives.  Mine seem mostly in my head, specifically my imagination.
For years I have been a person of faith, but I have cleverly weaved my way out of many situations that would require the use of it.  And during those years, I believed that the opposite of faith was doubt. (see John 20:24-29)
Now doubt certainly can work against faith, but take notice of that last verse.  The opposite of faith was not doubt but sight!
My wife and I struggle with fear, anxiety, and control; we like to "see" what's up ahead.  And even though the primary goal was to "dip our toes in the water" of NYC and build bridges with leadership at Hillsong NYC, God had different goals.
Presently, I'm not sure if there are any greater "enemies" to faith than fear, anxiety, and control.  Further, I'm pretty sure these are the biggest idols I have cherished within my heart all throughout my walk.   
(More Central Park)
Practice:
So flying our family 2,400 miles and staying in a completely new place for a week was excruciating to contemplate.
But we survived ten hours in the air at 35,000 feet!  We survived TSA, even after they displayed undergarments for the flying world to see!  We survived taking three young children to a completely foreign and remote place!  We survived walking the streets of Brooklyn at 11:00 p.m. multiple times!  We all survived despite catching a wicked sinus infection!
We survived…We survived!!!
Our God carried us through not only the circumstances (known and unknown) but He carried us over our fear-driven presuppositions!  NYC was actually far better than we expected!
And because we "survived" this step of faith, I believe we will thrive in the time to follow.  There are better and brighter days when people live free of their shackles.
Earlier I quoted from Exodus 14 where the Israelites pass through the Red Sea.  A couple verses later we read:
"The Lord will fight for you, and you have only to be silent." ~ Exodus 14:14
Oh, how I enjoy this reality.  I wish it would last forever!  But God seems to be in the business of taking us beyond the silent passivity of Exodus 14.  That's what NYC was for us.
The next step is the priestly prowess of Joshua 3.  Take a step…then watch the waters respond.  The initiation is not the completion here; the enemies still lurk behind big walls.  You now fight with God against the enemy.
In both stories, God moves on behalf of His people.  The seas part and the enemy is defeated, but there is a progression with the people's involvement.
Fast forward to this side of the cross where we serve one greater than Moses and Joshua. (see Hebrews 3)  Our "seas" have been parted and our enemy has been defeated.  But Jesus totally changed the game; the waters don't need to part anymore, He just walks on them and invites us to join. (Mt. 14:22-33)
My HOPE4Hipsters:
"You cannot have change if you are unwilling to do anything different." ~ Christine Caine
Millions flock to #MondayMotivation.  We're alive, but not living!  And there is no bigger adventure than to live for something bigger than yourself!  The gospel offers this adventure to us. (Mt. 28:18-20)
But as Steven Furtick says, God took manna off the menu.  Pursuing God is not something that falls into our passivity, but it is something that manifests out of our proactivity.
God came to our level through the cross, now we get to return the favor through His empowerment and equipping!
There is so much to do and God has given His children so much to work with!
In closing, I leave with a classic.  In the words of Sinatra, if we can make it there, we can make it anywhere!  If we can leave Egypt, that which is known and comfortable, we find He meets us in ways we could not imagine!
God bless you, Hipsters!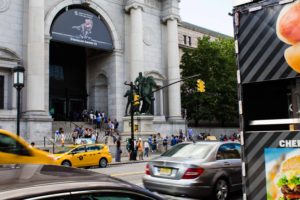 (Night At The Museum)