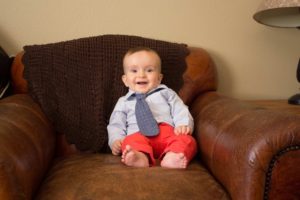 Basic Health Update:
Elias has Spina Bifida.  He's made it 6 months since he was born with only the initial medical intervention.
From his birth story to present, his life reflects God's miraculous healing hand in so many ways.
Twenty-four hours after birth, Elias had surgery to close his NTD (neural tube defect), myelomeningocele.  (an open wound exposing his lower spine and nerves)
After 9 days in the NICU, he was able to come home with first weekly visits back to the children's hospital, then spacing out to monthly.
We are still on the fence in regards to Eli needing brain shunts or not.  We praise God for this season of being able to adjust to life with him and minimal medical needs.
It's been 6 weeks since the last visit to our nuerologist.
Last month, he was released from PT (Physical Therapy), he is on track with his age group for milestones and development!
Tomorrow, April 18th, we will again visit our Dr. who monitors his head growth, his size, and brain fluid through various tests/measures.
Our family appreciates the many prayer warriors who pray with us for our son during this season!
A peek into our family life:
This guy.
He has
…kept us on our knees.
…Won our hearts.
…Fought for life.
…And now spreads an eager and contagious smile everywhere he goes.
This month marks a year from when we found out our little guy would enter the world in an extraordinary way.  We were told that our baby had birth defects and would in no way be a normal child.  Because of this, some doctors told us it wouldn't be worth it to carry out the pregnancy.  They said his health would hinder any chance to have a quality life.  Some encouraged us that the journey would be too hard, that life would never be the same.
But BOY, has it been worth it.
We still feel we are in the early phases of his life, but this month, April 2016, now reminds us that Elias has been here, face-to-face with us for 6 months!  He is half of a year old!  We can hardly believe it has been 6 months since our eyes met his.
Some days feel. Like. Forever. With 3 kids 5 and under in our home, each are still very dependent in their own unique ways.  But each day is also filled with too many precious moments to count and document.  These moments draw us into a closer perspective of what it may be like to have our gracious heavenly Father lovingly look down at each of us, as His children- no matter what our actions may be.
Even in their ornery and most mischievous moments, my heart bursts with an overwhelming love for own little ones.  I'm sure most parents can relate.  Words can't describe the wonderful emotions they bring.  How amazing, then, to even try and fathom the fact that our God loves us with an even more perfect, and unconditional love!  That is amazing grace.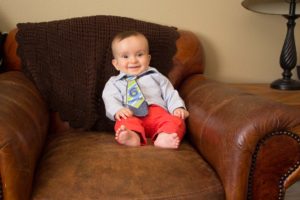 Days with Elias are fun.  He has two big sisters that it is clear he adores.  They have adored him from the start, but to now see his clear anticipatory response to them is just too cute for words.  He often looks for them around the room.
He is still our little football baby, somewhere over 22 lbs.  He has flown through many of his adorable baby clothes and now wears 12-18 months.  He still loves to be held, and cuddled, and does not want to miss a thing!  He is known for "rubber-necking" to make sure he is "in" on any noisy action.  He loves to look up at mommy while he is in his Ergo baby carrier.  He loves presence; he does not ever like to be alone, away from the "life" that surrounds him!
He loves a reason to laugh (especially with his sisters), playing in water, and he sure lights up when his daddy's home!
The #1 thing this little guy has brought to our home?  Joy.  A fresh frame of perspective; no matter what our circumstances, we are grateful to just "be".  We are delighted to just "be" with each other.  To be able to watch each other enjoy life.  To be aware of God's greater presence.  To be a part of a bigger story.
As we approach each medical appointment for Elias, we are always humbled by how much in life is out of our control.
But no matter what the future holds, we thank YOU for caring, for praying with us… for complete healing for our little guy.
We know and believe we serve a God who is more than able, but most importantly, we pray that Elias's life would bring God glory in every way.