Elias is 5 months!
Somehow the last 3 months flew by!! Unfortunately, my good intentions didn't lead to good results, so I'm playing catch up on the monthly updates for Elias.
Here is a simple update of what those months looked like for us 🙂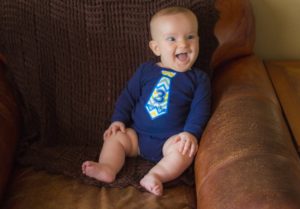 Elias – 3 months:
Weight: 16lbs.
@ 3 months Elias LOVES to be held, loves lights, & recently started sharing a contagious giggle.
Our sweet boy was 3 months on Christmas Eve….what a wild December with 3 kiddos, holiday celebrations, and all of us challenged with flu/cold symptoms!  So we had lots of time to snuggle, drink hot Echinacea tea, and watch Christmas movies as a family 🙂
Elias – 4 months!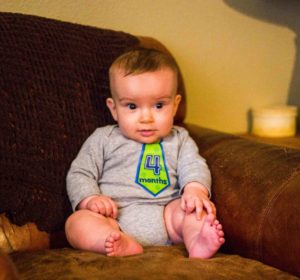 Weight: 18.5 lbs.
@ 4 months, Elias our little "football player" perfectly fits 9 month clothes.  He is so happy to be around people, adores his sisters, has the cutest giggle, biggest grin, & a strong grip!! (ask daddy who's had his beard yanked a few times) He's growing so fast!
Medical appointment:
On February 8, met with neurologist. This was honestly sobering.  After living what felt a pretty 'normal' and healthy life for the past few months (besides lots of appointments), we were told that Elias is in close need of brain shunts.  The MRI showed his ventricles have continued to enlarge.  It seems his head circumference also shows signs that the brain fluid is not slowing like the rest of his growth.  We NEED a miracle to happen if he will not need the shunts.  Our next appointment will be to discuss these medical details.  We trust the Lord with the results and want what's best for Elias, but we "hope" and prefer more medical intervention to not be necessary 🙂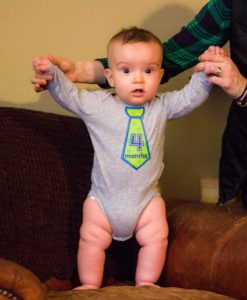 Elias – 5 months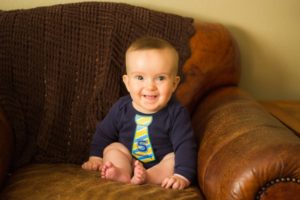 Weight: 20.1 lbs.
This month has been fun!! Elias is so interactive and interested in the world!  He has the sweetest, most content spirit 🙂  We all just love him more each day.
We seem to be SLOWLY adapting to the "new normal" of crazy in our home with 3 kids (5 yrs., 2 yrs,, and a baby)!  Many precious moments mixed with constantly seeking the Lord!!
Current cute traits:
… loves to laugh!!
… loves to grab onto anything (his favorite blankets especially)
… tries to sit up instinctively wherever he is, laying down, etc.
… lights up at each of his sister's sweet interactions!
… lights up when he sees Daddy
… while in the Ergo (carrier), he tries to smile and connect with Mommy almost all day!
… sparking an interest in rolling over!
… is mastering his tummy time
… is getting to be routine with bed time… but not naps 🙂
… is happiest in the center of everything and does not like to be alone.
This little guy sure brings joy to our home!!
Medical update:  His next medical appointment is Monday, March 8. We will find out if he is heading in the direction of needing brain shunts or if the Lord would allow it to be undetermined for a while. Our family continues to be encouraged by many who care and continue to pray alongside us through this journey.