Do you see?  The very fact that you are reading this already answers that question for most of you.  My question, however, might not be as rhetorical as you think.
If the Spirit of him who raised Jesus from the dead dwells in you, he who raised Christ Jesus from the dead will also give life to your mortal bodies through his Spirit who dwells in you. ~ Romans 8:11
If you are in Christ, you have Resurrection life dwelling within you!  Do you see this?  If not, perhaps you are using the wrong lens for viewing.
In the book of Hebrews, we are told that "faith is the assurance of things hoped for, the conviction of things not seen."  (Heb 11:1)
Many think that the opposite of faith is simply doubt.  Now doubt certainly opposes faith, but did you know that the opposite of faith is actually SIGHT?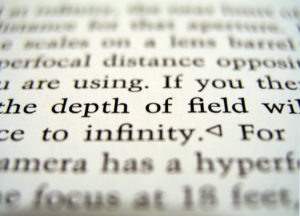 Now Thomas, one of the Twelve, called the Twin, was not with them when Jesus came. 25 So the other disciples told him, "We have seen the Lord." But he said to them, "Unless I see in his hands the mark of the nails, and place my finger into the mark of the nails, and place my hand into his side, I will never believe."
Do you see the contrast between faith and sight?  The story continues…
26 Eight days later, his disciples were inside again, and Thomas was with them. Although the doors were locked, Jesus came and stood among them and said, "Peace be with you." 27 Then he said to Thomas, "Put your finger here, and see my hands; and put out your hand, and place it in my side. Do not disbelieve, but believe." 28 Thomas answered him, "My Lord and my God!" 
Do you see yet?  If you are in Christ, Resurrection life dwells within you!  Thomas saw and believed, but Jesus actually somewhat rebukes him for this.  Read on.
Jesus said to him, "Have you believed because you have seen me? Blessed are those who have not seen and yet have believed." (John 20:29)
So I have to ask again — do you see?  Let me ask it another way: Do you see what you should?
The people of God notoriously have vision problems; we see what we should not and miss what we should.  We do not see the promises of our God.  Instead we see walls, giants, deserts and everything else that might violate our comfort, control, and complacency.
When we don't see Him and what He has, we don't walk with Him.  And when we don't walk in the promises, we end up just sitting on the premises.
What should have just taken a few weeks ends up taking our lives.  Hello, Exodus generation!
If people can't see what God is doing, they stumble all over themselves; but when they attend to what He reveals, they are most blessed. ~ Proverbs 29:18
So what are you seeing?  Your problems or His promises?  Your lack or His gain?  Your chaos or His peace?  Your bondage or His freedom?
Don't demand more, requiring the embodied Jesus to appear.  Recognize, by faith, that God's body has already been supplied, and He has given more than enough.
MyHOPE4Hipsters:
Jesus died for you on your worst day so that, by faith, you would actualize your best days.  But what you see will be determined by which lens you choose to look through.
May you see perpetual springtime, a newness of life, illuminated by His light.  May you taste love that is sweeter than wine accompanied by a hope that is ever-rising.  May you see life in the dead places, unity where there were schisms, and effectiveness replacing waste.
"Blessed are those who have not seen and yet have believed." (Jn. 20:29b)