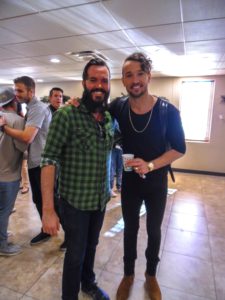 Yesterday I was blessed with an opportunity to meet a hero in the faith.  Carl Lentz has been used by God in such mighty ways to save me from the spiritual sewer I was swimming in for years.
Many voices are responsible for the current journey I am on, but Carl has been the primary catalyst.  He has ignited my passion for mission, evangelism, dreaming, and seeing our God for the immeasurable Being of grace, love, mercy, and source of transformation that He is.
HOPE4Hipsters and all that comes with it would not exist if it weren't for that fateful day back in July, 2013 when I discovered a Yahoo! story featuring this "hipster" pastor hanging out with Justin Bieber, Kevin Durant, and Jay Z.  "So scandalous!," I thought.
I could go on and on of my personal metamorphosis, but let me just shut it down here by stating I feel like a child in the faith once again, heart beating for the first time in a long time!  No more Zombie Christianity!
Thank you, Carl!

 (photo courtesy of hillsongnyc.com)