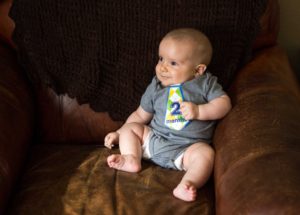 So Thankful…
Our little Elias is, well, not so little anymore! 🙂  He is two months and somewhere over 14lbs.  We affectionately call him our little "Butterball" – it just seems fitting this week 🙂  Oh, we love him so!!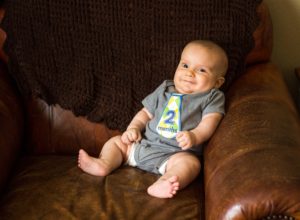 At two months, he:
basically looks like our mini football player in comparison to other babies his age!
is SO sweet and cuddly
will

faithfully

and

forcefully

let us know if he wants something or doesn't like something!
started showing us his darling smile, which began for his biggest sister
always loves to be held, meaning:

he loves to be rocked to sleep… almost. every. time.
we are thankful for "baby wearing"!

started more regular "cooing" (around a week ago – melts mommy's heart!!)
is a total trooper through all the extra medical appointments in his life thus far
has two adoring big sisters who still can't say enough about his cuteness 🙂
In some ways, these last two months feel like a blink!  Yet in others, they have been some of the longest days of our lives.  But we wouldn't want to trade them; God has been good to have used the health obstacles and challenges this past year to bring us more time together as a family.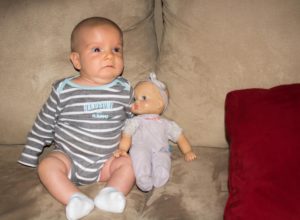 (<—- 6 weeks old- his sister thought he needed a buddy 😉 )
Normal Life…
Considering all that we went through this year (and anticipated), it can feel strange to think of "normal" as we adjust to juggling a newborn and his two energetic big sisters.  Between a crying baby, sibling squabbles, meals needing to be made, and a house to clean, it can be hard to stop and think, but when I do, I thank the Lord more than ever for the health that we all currently have and the "normal" every day problems that we can experience as a family.  Ironically, some can only hope for these.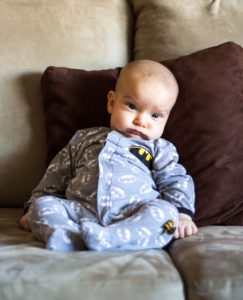 (<—- 7 weeks old)
Medical Summary of Elias's Dr. appointments:
We have been monitoring his Spina Bifida and Hydrocephalus this past month.
His urologist, pediatrician, and neurologist said everything seems to be going well.  We are excited for a "mini" break with four weeks between our neurology appointments!  His last ultrasound shows his ventricles are enlarging, however, this is to be expected with his condition.  It still doesn't appear to be a concern at this point.  His hydrocephalus is overall stable, so we will continue regular monitoring to see if it stays that way or needs intervention.  Thankful it has remained stable!
I truly believe we have experienced many miracles in our little guy ~ to God be the glory!  As for the future, we don't know what it holds, but all we can handle is one moment at a time anyways.  Continued thanks to the many hands and hearts that help support us in this time.  We are beyond grateful, and have much to say thanks for this season and always.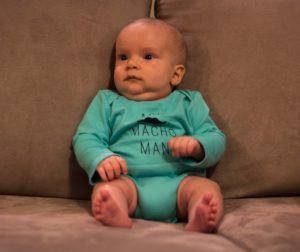 (<—- 8 weeks old)