Our Elias is 1 month!  Where has the time gone?!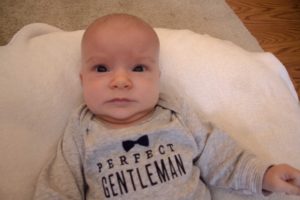 Highlights:
Elias is a great eater!!  He usually eats every 2-3 hours.  He weighs approximately 11.5 lbs. and is almost 23 inches.
His two big sisters adore him and can't give him enough kisses.
He LOVES to be held and rocked to sleep.
He is such a sweet boy, but he lets us know when he needs something!  He has pipes like his sister, Elianna.  Daddy predicts they will form a screamo band.  😉
He is very strong and tries to pull his head up to look at who is holding him.
This week, he really started holding an engaging gaze and connecting with his family!
The surgical incision (myelomeningocele repair) has healed well and now just the scar remains!  This makes diaper changing much easier now that there is no wound to constantly clean and cover.
Elias has had weekly check-ups with his pediatric neuro-surgeon ever since being discharged, but we are currently enjoying a week break before his next follow-up appointment which will include another ultrasound to monitor his hydrocephalus.  A brain shunt is still a possibility but currently is not necessary.
We praise the Lord for milestones this month of adjusting back home as a family of five!!
It has been crazy difficult trying to acclimate to this "new normal", but we appreciate the many hands who have helped us with meals and God's provision in ways we never would have expected.  God is good!