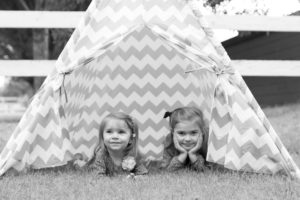 These big sisters can't wait to meet their little brother! Photo Credit: Gina Barcus 
OK – This week really feels like it has ended with a cherry on top as a gift from the Lord!
In a Nutshell:
PRAISE: We are scheduled with a new OB on Monday! 🙂
The details…
Care Team
We have a "care coordinator" due to Elias's health prognosis who has been walking us through details of the Children's hospital and his care post-natal. I'll name her Miss J. She and my specialist, Dr. G, have both told us they are working hard behind the scenes to make sure that everything goes as smooth as possibly with Elias's delivery and transition to the Children's hospital.
Thursday morning, Miss J had encouraged me to focus on preparing for baby and to not to be concerned about not having an OB. Dr. G and his team had agreed to step in and be on call so that I wasn't "abandoned". The hospital is aware and prepared for me, so things should work out as best as possible. At 38 weeks, most OB's are more worried than willing to accept me as high-risk.
This all makes sense, and I've strangely been at peace with it considering the alternative. I feel that God has directed us to a team of people who sincerely seem to care about all of the details rather than all of the liabilities.
Surprise News!
Thursday afternoon, I received the surprise news from my specialist team that they had found me a new OB- Dr. D! Dr. D says she is "on board" with our hopes and plan for delivery, willing to take us in, AND the team has coordinated all the details with a new hospital! (which, double praise, is way closer to us than the original!!)
Woohoo!!
So, we have an appointment to meet Dr. D on Monday! We are thrilled. Though I haven't met her, I am so encouraged by the team who's helped things come together. It is amazing to see things piece together just in time for Elias to meet us!
There have been a various people reaching out to us from the medical field, and we really appreciate it. The support is amazing. We feel blessed with so many resources and are reminded that we are not alone.
Continued thanks to everyone who has been praying for our family!! Once Elias is born, it will be a whole new journey with our little guy face-to-face. In the mean time, we are thankful for those who are helping us do all that we can to prepare circumstantially and mentally for his arrival.
"For your steadfast love is great above the heavens; your faithfulness reaches to the clouds."  ~Psalm 108:4
This CD has been a favorite in our home this summer -I hope others can be encouraged by Bethel's music as I am 🙂  Thank you, Lord, for your faithfulness!!