Recently, God has brought so much encouragement to us through loved ones.  A sweet group of family/friends got together to bless us with a time of prayer and loving support.  How special it is to be a part of the body of Christ and people who desire to live it out.  There are many people who have contributed to us not feeling alone during this challenging time.  We are humbled and thankful.
I also had the chance to meet with a dear friend of mine who went through a high-risk health situation with her baby.  She shared her story with me, and I've been so encouraged to hear how God brought her through those hardships.  Her story inspired me in many ways.  I have another friend with a similar birth experience and inspirational story.   My biggest comfort recently is exactly the opposite of what the enemy wants us to believe:  WE ARE NOT ALONE.  We have the Lord, and we have others that we allow in our lives through open and transparent healthy relationships.
Highs. Lows.  A beautiful mess.  That's what I feel describes our life 🙂  I do not want to ever give the perception that we have things all together.  We don't "feel" strong enough.  In fact, the opposite ~ we "feel" so weak.  Why would God allow this? Our family is daily having to metaphorically and physically be on our knees asking God to get us through one day (or one moment!) at a time.
We know that we're only at the beginning of our baby's current health challenges.  But like most people, we endure other hardships that really stretch and crush us.  Cancer in loved ones, death of loved ones, broken & strained relationships…but through it all, we believe God permits it, and dare I say uses it, if we allow Him, to draw us closer to Him, the One true source of constancy and hope in the world.
How do people walk through these trials without a comfort beyond what this world offers?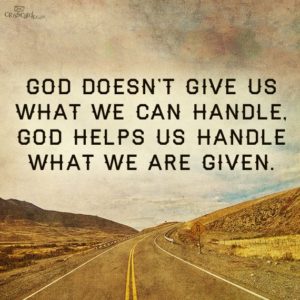 "Such is the confidence that we have through Christ toward God. Not that we are sufficient in ourselves to claim anything as coming from us, but our sufficiency is from God."  ~ 2 Corinthians 3:4-5
I NEVER would have foreseen having to live with these potential scenarios and challenges of Elias's birth and life.  It always seems easier to think, "this is what they are going through."  I could never imagine 'this' happening.    If you know me, you know that EVERY aspect of this trial is super out of my comfort zone.  Even sharing this right now 🙂  But I do know that despite the emotional rollercoaster, somehow God brings life and hope and strength to get through.  And I am so encouraged to KNOW that WE ARE NOT ALONE.   Thank you, Jesus, friends, and family!
A song that has helped me keep perspective throughout this season…