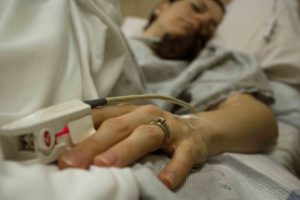 Praise!
Surgery went as smooth as can be asked for!
Prayer:
Elias's brain fluid (hydrocephalus) will stabilize on it's own without medical intervention (brain surgery/shunts).
Wisdom and direction from the Lord for Dr.'s, medical staff, care team, and parents.
Elias health journey…
First days of his life….
We are continually blessed by God's graciousness in this situation.  It is hard, but literally we feel the Lord giving us strength we need each moment.  We are experiencing great assurance in God providing our needs, loved ones taking care of our girls, and prayer giving us strength.
Day 1: Thursday
After everyone settling from the labor and delivery, we were able to spend a little time bonding and feeding Elias.  He was a pro, and I believe the Lord used it to really help him thrive at the start!
We had to stop feedings at midnight to allow him to prepare for surgery… so that was a little rough knowing he couldn't understand why he wasn't allowed to eat.
Daddy & Mommy slept in the NICU so we could be close to him which isn't exactly set-up the most comfortable for families 🙂  But we slept pretty well sharing a day bed and recliner…especially since we hadn't slept since 24 hours before!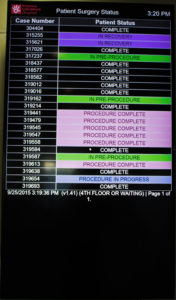 (Elias was 319613)
Day 2: Friday Morning
Rush, rush, rush!!!  The care team at our hospital was awesome and help speed up my early check-out!  I was delighted as mommy to be able to accompany Elias to the children's hospital at 9am.  Daddy met up with us as soon as he could.
Arrival at hospital was busy.  At 10 am, we met Dr. after Dr. and they explained each step of the surgery/recovery that they could.
Surgery was at about 2pm.
Notified it was complete close to 3:30pm.  Dr. B shared in our consult that his spine's exposure was at the very base, it was not large, and they were able to successfully cover it.  He has to be on his tummy for 4-5 days minimum as they monitor recovery.
There are still many unknowns that only time will tell, but this was a big first step of the process!
He's currently being monitored for his brain fluid's swelling and response to recovery (hydrocephalus).  We want it to stabilize on it's own, but won't know for a few days..
He is still on antibiotics, oxygen, and fluids for hydration.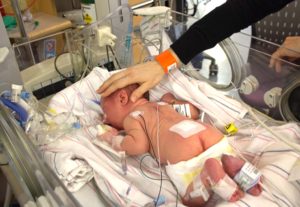 Day 3: Saturday Morning
Elias was able to drink milk from a bottle and he was taken off oxygen!  He was had three successful feedings so far – this is so promising!  The Dr. just okayed him being taken off of the fluids/sugars sometime later today!
Time will continue to tell his progress, direction for the recovery time, and follow-up care that he may need.
We feel so overwhelmingly blessed by the loving and encouraging support we are receiving from everyone!!  Many prayers are being answered, and we are so thankful!!