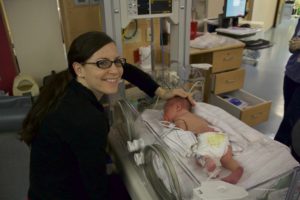 We continue to be blown away by God's evident graciousness in our stay here.  Elias is responding very well to everything.  We are thankful as all of this continues to be promising for his future!  It's hard to do much beyond live with helping care for him and all the medical necessities, but we are so thankful for the opportunity to be with him.  We are surprised with how quickly these days at the hospital are going by so far!
Day 3: Saturday Afternoon:
Very busy day.  Many new routines began to fill our time.
Hit his 24hr. post-op mark.
Recovering well…slowly but surely.
Starting to eat frequently (mostly every 2 hrs.)!  Fortunately, I'm able to pump, and he drinks it from a bottle to keep track.
He is a quite the pooper!  Our nurse team invented a "mud flap" to help prevent his explosions from getting on his wound bandage 🙂
Often, 3 diaper changes in an hour. 😉  Every once in a while daddy gets on doo-doo duty.
The staff has been very accommodating to us and our families requests.
Medical:
–Wound is healing as it should.
–Elias's brain fluid is increasing (which is expected and common), so we are currently waiting to see how he responds on his own and allowing it to properly decrease.
Prayer:  For mommy, daddy and Elias to have strength and stamina to get through long days!  We are starting to feel it set-in 😉
Our good friends who visited today shared this verse with us:
Psalm 33: 18-22
"Behold, the eye of the Lord is on those who fear him, on those who hope in his steadfast love,
that he may deliver their soul from death and keep them alive in famine.
Our soul waits for the Lord; he is our help and our shield.
For our heart is glad in him, because we trust in his holy name.
Let your steadfast love, O Lord, be upon us even as we hope in you."
Day 4: Sunday:
Elias had a full night of activity (eat, poop, sleep…repeat)!  Daddy was a great help this evening while we took shifts of being with him and resting.
Had his first sponge "bath."  Had some excess medical restrictions alleviated… yay!  (IV removed, etc.)
Day is non-stop with routines and Elias's healthy digestive system.  Mommy is being able to hold Elias more frequently.  He loves being snuggled.
Medical:
–Dr. B (surgeon) came back to visit again today, and said same prognosis.  Continuing to monitor brain fluid.  It did increase more.  Continuing to wait and see if it will decrease without assistance.  (not sure time length it will be monitored… I think one or two more days?)
–Wound is continuing to healing well.  He had only been able to lay on tummy since birth, today he was okayed to begin lying on his sides at times!  He seems super pleased.