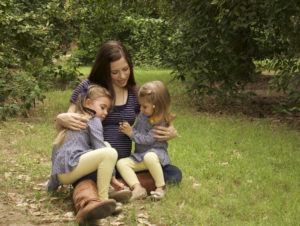 Photo credit: Brandon Arnold
The time is near!
We want to express sincere appreciation to all of our loving and kind support during these final days as we countdown Elias's arrival…whenever that may be  🙂
Praise:
Our medical team is complete!  Met our OB ~ loved getting to know her and value her support!  Delivery is now set-up to be at a closer hospital while ensuring Elias's transport to the children's hospital for the best care.
Prayer:
God's continued provision, timing of Elias's birth, peace and trust in the Lord for delivery details, and wisdom for medical team.
"Late…?"
Many know that my first baby came 14 days after her "due date", and my second one was 10 days after!  So, we don't exactly expect this little guy to be early, however, every baby is unique, so we're doing our best to be prepared in case he surprises us!
"We have our Doctor!"
Last week, we finally met my OB, Dr. D, and we couldn't be more pleased!  She really seems like the perfect fit for our medical team, and we are so grateful for how it all has fallen into place…just in time!  She has a very easy-going and relaxed demeanor while being very skilled and experienced.  AND Dr. D is fine with my labor being closer to 41 weeks before medically inducing.  (Of course, Elias is being closely monitored, and we would intervene if any medical concerns become prevalent.)  Brandon and I are very thankful for her and my specialist team's support to pursue as natural of a delivery as possible.
"Anxiously waiting…"
Mentally, I'm striving to rest in the verse, "Be anxious for nothing, but in everything, by prayer and supplication, let your requests be made known to God." (Phil. 4:6)  Emotionally, we are so eager to meet our son!!  Physically, I feel SO ready.  Elias is a full-grown baby kicking around!  But I am very grateful that I've been able to carry him full-term.  Physically, it also feels very taxing, and as a gal, when I'm physically drained I can easily feel drained in every way… 🙂  With all of the medical details falling into place just this last week, however, I feel like we're experiencing rest and relief in a new way as we wait!  Until he arrives, I am content and enjoying each day that I have just my two girls to care for as this season comes to an end.  They are both at super fun ages, and I love their zeal for life!  I know they will be the best big sisters ever for Elias.  They already love him so much and talk to him daily 🙂
"Unknowns…"
This season of preparing for Elias has seemed so long in many ways, but it has also already been filled with many rewarding moments of seeing God's faithfulness and His grace get us through when we felt like we couldn't.   We have many unknowns ahead, but such is life!  We pray that the Lord may prepare us for whatever lies ahead, and we again express gratitude to those who have surrounded us with support.  Elias is so blessed to be ushered into this world with so many open hearts and arms surrounding him!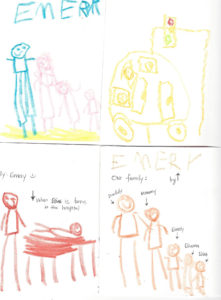 ♥ Our oldest daughter is an ambitious artist.  As I was writing thank you notes's this past month to some friends, she was determined to contribute and draw a personal sketch of our family on each one 🙂  All of the pictures include Elias.  I'm sure most parent's can relate: It is so precious seeing my children's natural initiative and personality come through! ♥