The Medical Saga Continues….
Prayer Requests:
Unexpected change of care in 3rd trimester
That God would connect us to the perfect OB!
Details for those interested…
I am 35 weeks!  Through the last 2 months, I slowly realized through my appointments that I feel very uncomfortable and disconnected with my current specialist/provider, Dr. C.  She is not like-minded with our philosophy of care (and birth in general), and sadly, there's been a lot of conflict at each appointment.
This is huge, because Dr. C is in charge of my pre-natal care, the labor and delivery details, and the initial details of Elias's post-natal care.  We definitely have a few very important requests (through much research) for the labor/delivery.  All of them she initially denied, but after very firm inquiry she finally agreed to "somewhat allow" some of them (one being a naturally/unmedicated delivery 1st route).  After my last appointment, she confirmed she wouldn't work with the midwives in my case (who we transferred for), and that she's "unable" to allow our requests for the baby's care after his birth.  I tried to be willing to work with this hesitantly, but I admit it made me feel sick in many ways.  After seeking counsel from other professionals, we realized the risk is pretty extreme.  There are liabilities, and we are even risking CPS getting involved if we persist in requests against hers.  Dr. C made it clear to us more than once that liabilities are one of her main concerns.
This week I spoke to some trusted professionals and have been strongly advised to follow my intuitions and transfer care.  I re-connected with my initial specialist, Dr. E.  What a WORLD of difference!  He's an amazing, well-known and experienced Dr. in his field, and he was very approachable and receptive.  Everything we requested he fully supports/approves of, but I need to find an OB to support these things and who feels comfortable with them also.  They will still co-manage his team for the specialized care.
….So, that is where we're at!  I'm currently pursuing a list of potential OB's and we are in crunch time!  I know it may sound crazy with me being so far along, but I am SO relieved! I feel such a peace about this decision and even wonder if being at my last Dr. added to my anxiety this pregnancy.  We're so thankful that we can trust God is ultimately over all, and He cares about the little details in this journey.  Hopefully, we will soon have a settled decision on our team of Dr's.
Thank you again to the many who are praying along with us!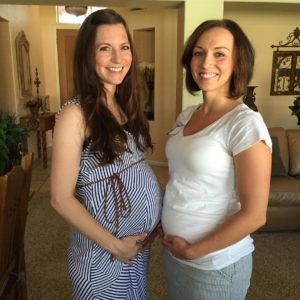 Me and Elias (coming September, 2015) along with my youngest sister, Kellie, and nephew/cousin Oliver (coming December, 2015)